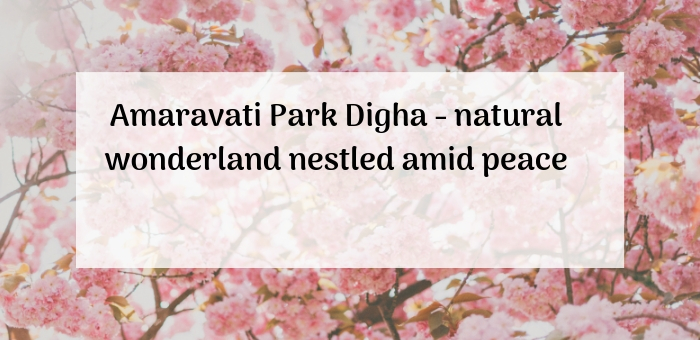 Amaravati Park Digha – natural wonderland nestled amid peace
Amidst your everyday routine which is nothing but grueling, taking a vacation is what you ideally need but cannot make time for. But, taking a short trip to a beautiful beach which is not the farthest if you live in Kolkata will never be a wastage of time. Digha is the perfect place to choose for that ideal weekend getaway. Located about 200 kms from Kolkata and about 25 kms from Mandarmani, Digha is a town that holds a separate beauty of its own.
Tourism in Digha has increased over the years, despite having places like Goa and Pondicherry on the list. One of the biggest reasons why Digha remains a top pick for tourists is due to its nature of being pocket friendly while offering a serene environment.
Amaravti Park – A Natural Wonderland!
Known as the 'Brighton of the East', Digha has a plethora of pine trees instead of palm trees along the coast, making this a unique feature of the beach. A lot of tourists may only know Digha for its beach and other beaches around areas such as Tajpur and Shankarpur, but there are several other spots which are tremendously amusing and interesting.
One such attraction happens to be the Amaravati Park, which lies amidst the quaint coastal town of Digha. This park is a little natural wonderland for tourists who are looking to find some serenity and peace while admiring the lush greenery of a well maintained park.
Situated less than a kilometer away from the New Digha Beach, Amaravati Park boasts of beautiful and pristine lawns that are filled with a rich diversity of flora and fauna. There is also the presence of a mini lake which is situated in the middle of the park. One of the most interesting features happen to be the ropeway ride which lies across the length of the park and offers the visitors a breathtaking view of the beach as well as the park below.
With neatly paved walkways, a multitude of sitting areas and boating facilities to enjoy the lake, this park provides wholesome family fun for children and adults looking for a relaxed manner of spending some quality time during their vacation in beautiful Digha. To ensure the best and most relaxing trip for yourself and your family, always choose among the best hotels in Digha for a safe and successful stay.