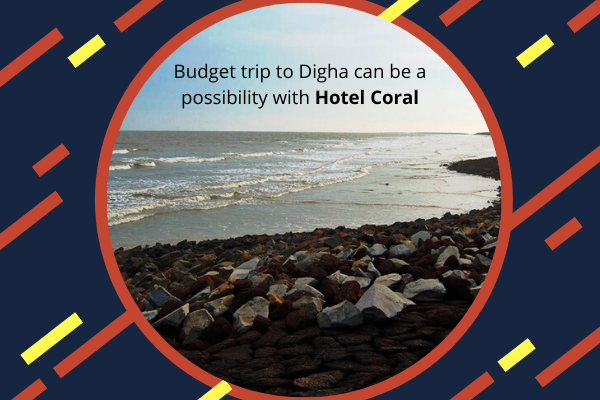 Budget trip to Digha can be a possibility with Hotel Coral
Are you planning a trip to Digha? How about we help you save your hard-earned moolah? Read the article to know the trick as we reveal it.
We all love spending money on travelling. After all, we work hard to get the best that life can offer. By recognising the same, one might ask that what can be better than exploring new places and new experiences? The answer to which is nothing. Nothing is better than travelling. However, there can always be an option of saving some of your money without sacrificing the awesomeness of your next trip. And this article is all about that. 
As we all know, with time Digha has emerged as one of the most crowded tourist spots in Eastern part of the country. With the popularity rising, the place has also witnessed some exceptional rise in the cost of a trip to the same. However, this need not worry you much as intermediaries such as Hotel Coral can come to your rescue by ensuring that you get the best of Digha without creating a hole in your pocket.
But then, how does it do so? Read on to know-how.
Budget trip to Digha can be a possibility with Hotel Coral:
Affordable accommodations:
To offer its clients a homely feeling outside the home, Hotel Coral affords world-class facility for accommodation at surprisingly affordable rates to its customers. Among one of the many sea-facing hotels in Digha, Hotel Coral makes itself notable by providing a beach themed swimming pool inside the hotel for its guest to enjoy the feel of a beach at their convenience. The hotel further empowers its customers to choose the best room in the hotel, from the three categories namely, White Pearl Room, Blue Pearl Room and Silver Pearl Room, that suits their needs and budget. Further, all rooms in the White Pearl Room category, are furnished with intercom facility, a minibar, personal tea/coffee maker & a four fixture bathroom. Whereas, the rooms under the Blue Pearl Room comes with the facility of interconnected rooms in this category for families/large groups. The Silver Pearl Rooms are located in "Oyster". The Silver Pearl rooms overlook the charming poolside.
Exquisite cuisine at the most cost-effective prices:
Hotel Coral has an in-house Multi-cuisine Restaurant in Digha known as Aqua Blues. The menu filled with Chinese, North-Indian & Bengali cuisine at the rate starting from rupees twenty-five, with the highest being four fifty rupees makes it the most affordable restaurant serving first-class food in the island. This poolside, beach-themed restaurant with an adjoining bar serves the most excellent Chinese and continental dishes that will make you languish over the menu. And all of it at the most affordable rates imaginable. 
Packages:
The best part about Hotel Coral is the attractive packages that it offers to its guest. If you are on a budget trip to Digha, then these packages are going to serve you the best. With two exclusive packages such as Bichitrapur Package and Prewedding Photoshoot Package Digha, it will help you experience the best in Digha without creating a hole in your pocket. The Pre-wedding package for two nights and three days by Hotel Coral with Tajpur offers luxurious staying and various other services to help you increase the feeling of love between you and your paramour. Whereas the Bichitrapur Package affords two nights stay at AC Blue Pearl Room with free breakfast, and one complimentary dinner for two at Aqua Blues Restuarant was a part of the package. Added benefits such as free boating pass to wonder island and free cab for Odisha tour coupled with free passes for a speed boat ride made it the choicest option for us. Apart from that, it also offers a local tour around Amrabarti park, Digha Science Center, Kajoldighi and Biswa Bangla Park. These two packages are worth the money or indeed more beneficial than what you pay. 
The above stated are just a few of the factors that make Hotel Coral the choicest hotel partner if you are planning a budget trip to Digha.
Have not booked your room yet with Hotel Coral? Book it online to avail the best deals on the best rooms and services in the premises.