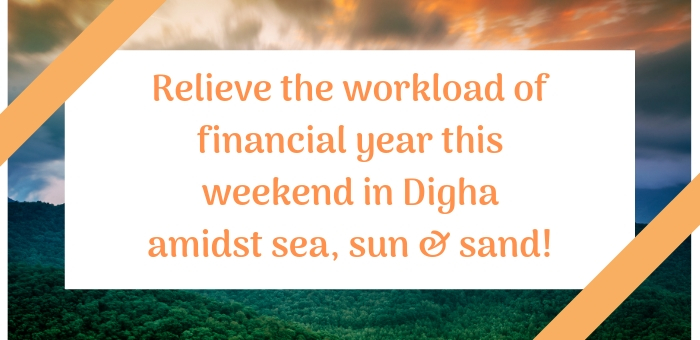 Relieve the workload of financial year this weekend in Digha amidst sea, sun & sand!
When you reach close to the end of a financial year, you need to achieve all of your targets and deadlines. For example, in the financial sector, accountants and clerks take extreme workloads to finalize the accounts and balance sheets. Thus, at this time of the year, the stress level of an employee remains at its peak. Therefore, you may need a break after the end of the financial year.
In India, the month of March is known as the year-ending month. In India, summer starts in the month of April. So, before Bengali New Year or Poila Boisakh, you can plan a quick getaway trip to Digha. Explore the internet to find the best Digha hotels so that you can enjoy your vacation with luxury.
WHY DIGHA IS AN IDEAL DESTINATION FOR YOU?
To take pleasure in the beauty of sea beaches and to experience the fresh air of seaside, many people visit Digha and enjoy their vacations. Tourism in Digha has become popular due to various world-class hotels and resorts located near sea beaches.
At the beach area of Old Digha, you can enjoy the beauty of various parks, coral reefs, beds of seashells, etc. You can enjoy these types of scenic beauties of the beaches of New Digha as well. You should explore the Snake Farm, Marine Aquarium, Talsari Beach, Udaipur Beach, Chandaneshwar Shiva Temple, etc. As a nature lover, you will be pleased to see the meeting point of the Subarnarekha River and the sea near Udaipur village.
If you are looking for a less crowded destination, then you should visit Shankarpur Beach. This beach is a regular fishing harbor. You can enjoy the scenic beauties of sunrise and sunset while relaxing on the beach.
Don't forget to visit Mandarmani. It is a seaside resort village located around 28-30 kms away from Digha. Apart from relishing the views of the seaside, you can find various ornaments of shells, handicrafts and handmade jewelry from local shops.
HOW YOU SHOULD PREPARE YOURSELF?
You should book such an accommodation which can offer you world-class amenities, high comfort and full relaxation. After the end of the financial year, you should enjoy each and every moment of your vacation. The best hotels in Digha will offer swimming pools, parks, restaurants, AC rooms, etc. Some hotels also offer picnic spots, so that you can have a fun time with your family and loved ones. Thus, before booking, carefully explore the facilities offered by each luxury hotel in Digha.