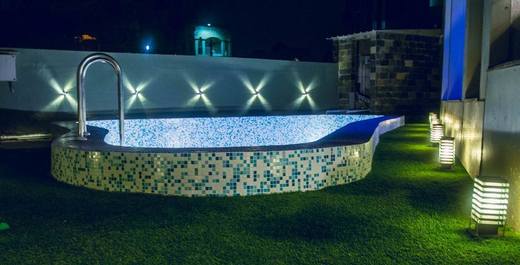 Digha Hotel with Scrumptious Food & Swimming Pool
Are you a lover of great food? Then "Aqua Blues" at Hotel Coral Digha is one of its kind restaurant that not only serves scrumptious food but has an unique ambience to go with it as well. Besides the hotel also has a beautiful swimming pool to provide you with a perfect relaxation to rejuvenate you for a long time. The monsoon has finally set in. The long hot summer has finally gone. It has created the ideal time for you to take a quick holiday. If you are located in or around Kolkata, then which other place other than Digha for a quick get away? When it comes to luxury Digha Hotel, the one name which stands out the most is Hotel Coral Digha.
What better way to have fun than savoring on delicious food while on a holiday?
The dining experience at Aqua Blues could be reason enough for you to visit Hotel Coral Digha. The restaurant is in an underwater setting. It is located just adjacent to the pool. It has glass walls from the floor to ceiling. This will provide you with a beautiful view of the soothing waters along with the waterfall running into it. It has an adjoining bar as well. The perfect ambience here is also matched with equally delicious food. The best chefs in business are here to serve your palate with the finest food. There is a wide variety of cuisines to choose from. So if you are a Foodie then you could have the best time at this restaurant.
Have the perfect time at the beach swimming pool
You may have been at many swimming pools, but have you been at one which resembles a beach? If not then here you could have a great time at a beech in a swimming pool. You could get the feel of taking a dip in the ocean by taking a dip in the crystal clear waters of the swimming pool and not having to leave the hotel. Spending time here would help you relax and rejuvenate you for a long time.
But at Hotel Coral Digha there is something for everyone. This is why there is a lawn for kids as well. The park has life size figures of popular characters like Chota Bheem and Alice in Wonderland. So the kid's park will help your child have his or her best time as well.
What is best about Hotel Coral Digha that all these are available at very affordable rates which would suit your pocket. So you need not worrying about paying more. Now with the initial inaugural offer of availing a flat 50% off on Room Tariffs, and 10% off on all food and beverage, it is the best time to book your rooms at the best Digha Hotel – The Coral.
When you plan for your Next Holiday to Sea Beach some coolest Digha Sightseeing places you must to ignore. We can make your Digha Tour memorable, what are you waiting for? Call now