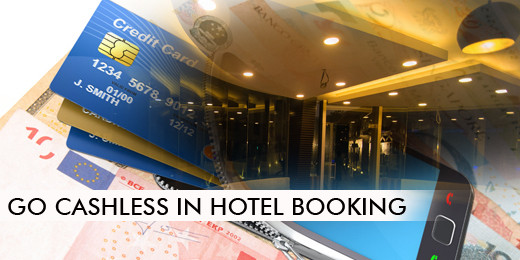 Go Cashless and Enjoy Your Holiday in Digha
Worried about your next Weekend Holiday to Digha? There has been a huge uproar following the announcement of the Indian Government's announcement that Rs 500 and Rs 1000 would cease to be legal tenders effective from the 9th Of November 2016. These are to be replaced with new currency bills of Rs 500 and Rs 2000. Yet the new notes are yet to reach many banks and ATM's, thus this has lead to temporary crisis of the cash. These have resulted in long queues both in the bank branches and in front of ATM's. Though it is perceived by many as a very bold and positive step over the long term, in the short term it is causing severe impact on many. This is particularly affecting travelers. If you were in the midst of a long vacation far away from home, you might have been totally unprepared for this dramatic step.
With cash still being a dominating way for transacting, the sudden step has been impacted almost all sectors of the economy. Thus the travelling and hospitality sector has also been impacted too. With the situation likely to continue in days to come we thought it would indeed be helpful to provide you with some simple tips which could help you ride through it, if you are planning a holiday in digha now.
Go Cashless On Your Next Holiday in Digha.
The indications are clear. With the emphasis on "Digital India", plastic money is set to slowly but surely rule the market place in future. So you need to go with the trend and travel accordingly. The only thing you need to be careful about is the security of your transactions. Thus you need to strictly follow all the instructions while transactions for the safety of your funds.
For Booking Hotels in Digha.
With the internet big and growing, much of the hotel bookings of today happen online. Most of the payment needs to be made online. You could make use of internet banking. Many experts are of the opinion that this is one of the safest ways to transact online. Thus in case you are still not activated your internet banking account you can do so and learn how to use it to make more convenient for you. You can also make use of Debit cards and credit cards to book hotels in digha.
For your railway and flight bookings.
Instead of being in the queues for obtaining cash in the banks for cash, where there happens to be ceilings on withdrawals, you can book your railway and flight bookings online. This will save you much time and harassment. You must make use of various electronic modes of payment. Apart from the regular debit and credit cards and internet banking you can also make use of other popular modes like PAYTM. These have gained much popularity and having a might wider acceptance in recent times. There are a lot local establishments which now have accepted these new modes of payments as well.
For Travelling.
In case you are travelling locally you can now download the PAYTM App and other similar apps which can hep you to pay without cash. These have now become simple and secure too. As an example Uber has a tie up with PAYTM for payments.
For Shopping in Digha.
For the local shopping too you can now pay by mobile apps. All you need to do is fund your account and pay smoothly.
Go Cashless and avail benefits of online Coupons.
It is the age of tie ups. So if you are paying by online means you have a fair opportunity of availing attractive online discount coupons. These could help you win many attractive deals as well.
In case you are planning Holiday in Digha, then you could go cashless and make payments to Hotel Coral Digha, one of the leading luxury hotels of Digha for hotel bookings and other services.