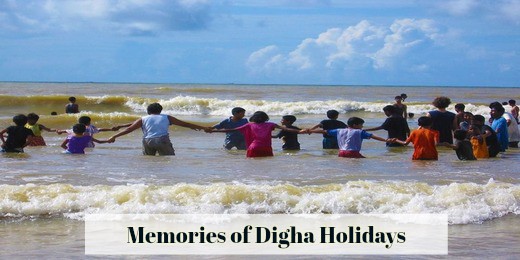 Open Letter on memories of Digha Holidays
Writing about something seems easy when you are deeply fond of that thing. This is what we experienced recently when got the chance to come across this beautiful Open Letter on memories of Digha Holidays. Not to mention, we know you would be able to identify with the simple yet honest feelings about the sea beaches of Digha & Digha Hotels.
Excitement of Digha Holidays
" With rolling years, sometimes all you need is sit back and dwell in the memory lanes. So this time I happened to recollect the memories of Digha Holidays from the yesteryears. Those small Digha Trips were the best holiday memories so far.
I still remember the joy with which me and my elder sister used to decide our little and very own itinerary. Our parents used to use Digha Vacation as a bribe to make us study. We loved everything about Digha. Right from the road trip to Digha to enjoying the delicious and mouth watering delicacies served at our favourite Digha Hotel. The race between me and my sister in the sea beaches, used to be the best part.
The way my father used to help us to make sand castle was also one of the cherishing experience. Wish if we could have captured those moments the way we can do it now. Few things create a lasting impression in your life and these Digha Holiday Trips.
Evening walk by the Digha Sea Beach and munching mouth watering food and snacks used to be an icing on the cake. My mother especially loved to try the seafood delicacy available at Digha. I even remember the way my mother used to buy dry fruits like cashew nuts in Digha.
I also remember the way we used to request our parents to extend our trip for atleast a day or so. My sister used to chalk out plans to convince our parents to stay back in Digha. Though we were never able to convince our parents. I remember the way we used to discuss for months about every bit of thing about our holiday trip. Hotels in Digha at that time were not as luxurious as it is now, but still the simplicity of our Digha Hotel was something that I still remember.
Everything has changed till then, I am a working professional and my sister is happily married. One thing that is still the same, is our love for Digha. After so many years we have planned a new trip to Digha. I hope I can relive all my childhood memories with me, my parents and my partner in crime, my beloved sister. We are planning to visit by the month of february and I have already been a follower of Coral Digha for quite a long time. So my choice of Hotel in Digha would be Hotel Coral Digha.
See you Soon.
Neha Bhattacharya"
This open letter is something special, not only for Neha but also for us. We thank her for sharing her beautiful memories with us.