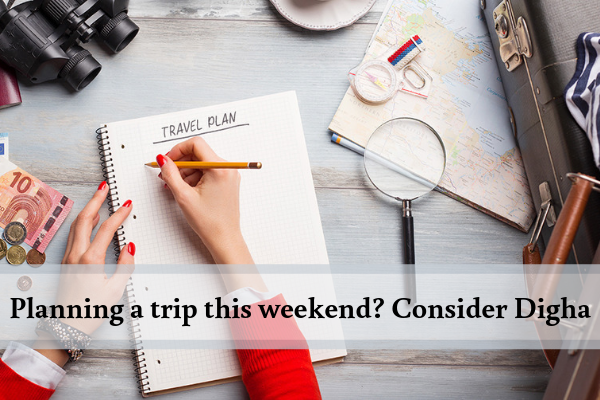 Planning a trip this weekend? Consider Digha
We live in a hectic world. With most of us stuck at a 9-5 job, we end up feeling like a machine running out of fuel by the end of the week. 
If we pause for a moment and pay close attention, we would hear our body scream for a vacation; away from this robotic life and into nature's womb.
Although that would be the ideal thing to do, our realities will not allow us to do the same. We cannot go on a vacation in the middle of the year, especially when we have that PPT to finish or that meeting to attend. Is not that the reason you are still planning to visit Goa with your friends since past few years?
That was the case with our vacationers too. Pranjal and Sumit are the representatives of the corporate world. Every time you meet them, they have an air of exhaustion and lifelessness about them. 
However, this particular day was going to bring a change in them. They were sitting in their ideal offices on a busy office day when they overheard their new intern talk about the awesome weekend he had. Assuming it to be another Goa trip that the intern was talking about, they did not pay much heed to it. However, after a few days of the incident, they learned that he was not on a Goa trip after all. To their surprise, they found out that he was in the city this whole time. 
He was a Digha with his friends; chilling at the beach, going for adventure water sports and later stayed at a 3-star budget hotel in Digha viz, Hotel Coral. Apparently, it all came within the package offered by the hotel, which was extremely affordable for anyone who seeks a little getaway on the weekend.
It did not take much for Pranjal and Sumit to draw conclusions from their intern's weekend story. They realised that it was possible to have a funfilled weekend within the premises of the state. And all of it within their budget.
Next weekend hereafter, both the colleagues decided to visit Digha on their weekends. Ever since they are the regular clients of the best Digha hotels, from experiencing varied adventure watersports to the treks into the mangroves of Bichitrapur, they seemed to enjoy every bit of their weekends on the Digha is a seaside resort town in the state of West Bengal. They would then conclude their day at Hotel Coral, a luxury family hotel receiving some 3-star luxury service in Digha – all of it without causing a hole in their pocket or demanding much of their time than they can spare for the same.
Hotel Coral Digha is among the top hotels in Digha that offers luxury service at a budget price. Targeting all sections of society, Hotel Coral endeavours to give you the gift of a perfect tour experience at the most affordable rate possible.