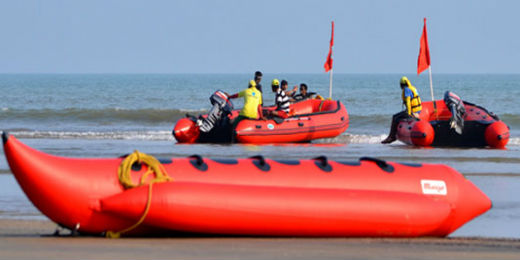 Rejoice Yourself With Adventure Water Sports in Digha
Digha has been traditionally one of the favorite tourist destinations for Kolkatans. The charm of this beach town draws people living in this part of country time and again. The best part of this beach town is that you can enjoy over the weekend, stay in your preferred holiday hotel in Digha and get back early to work once the week resumes.
Digha now has the latest adventure water sports to offer. So if you are a little adventurous in nature, then you could just have a blast here. This is a fabulous addition which will rejuvenate you for a long time.
Jazz up your life with adventure water sports in Digha:
Para Sailing: You must have heard about para sailing. This is gliding through the air while being towed by a motor boat. The experience is all fun. But here safety is an important thing. But if it scares you and excites you at same time, then it's the best thing to try. Don't be so worried because there are skilled instructors who would provide you with the necessary instructions for the same prior to your ride.
Snorkeling: This is another adventurous water sport which you could enjoy in Digha now. In this you will swim in deep water wearing a diving mask and certain diving equipment. You could have phenomenal underwater sights through this. You need some basic skills and experience to enjoy the fun. And the guide will properly make you skilled on how to communicate with him before going down the sea.
Water Skiing: This is another water sport that Digha offers to those who are able to do it properly. It is an amazing experience. There are skills needed to acquire for this sport. As a beginner,  you need to learn them, which take time.
Water Zorbing: This is yet another fun water sport which is popular among all age groups. In this, you would have to enter into a giant inflatable sphere and then walk across the surface of water which is now a common sight at most amusement water parks.
The best time to spice up your life with water adventures in Digha is October to March, since these adventure water sports can be enjoyed most during this time. During summer, the weather gets humid and hot. During the months of September and February, taking a stroll around the beach is very enjoyable since the days and evenings are very pleasant. Visit to Digha must be avoided during the months of July to August because of rains.
Tourism in Digha has turned out to be all the more interesting and appealing because of these adventure sports! Visit Hotel Coral Digha – Among most popular luxury hotels in Digha and make your Digha Holiday memorable.