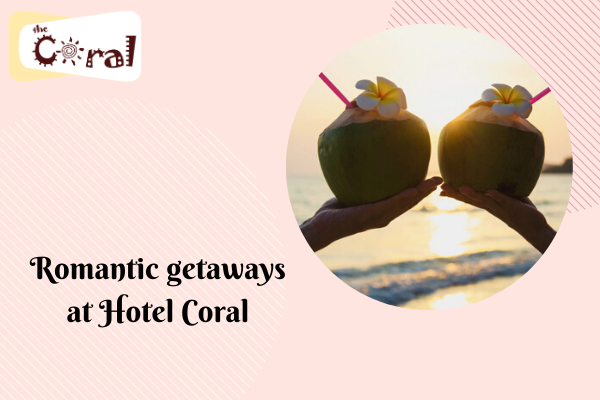 Romantic getaways at Hotel Coral
Are you planning a romantic getaway with your paramour? Then the Hotel Coral is the just place for you.
Romance is an emotion that we need to cherish each day. However, often than not, we get stuck in our daily lives to this extent that we neglect the most important aspect of our being, which is our love life. That is when a romantic getaway at a beautiful beach as Digha with your paramour can be the best option to rediscover and regain the essence of love in your life. 
However, just setting off for some me-time with your paramour to Digha can lead to nothing extraordinary. You need to spend some time planning the perfect getaway for both of you. But we do understand that having a strict schedule at work can often keep you from doing that. That is why Hotel Coral proposes to create the most romantic environment for you and your partner to divulge in without having to worry about the effort required in planning the same.
Hotel Coral can act as a friend that helps you get the best without you having to worry a bit. And at the top of it, it also lets you customize your short trip with your paramour to Digha to suit your particular needs and requirements.
Saying so, let's explore the services that the hotel offers to heighten the romance between you and your paramour on your short trip to Digha.
Romantic getaway at Hotel Coral:
Candlelight dinner for two:
Candlelight dinner at the backdrop of the glimmering beach is a possibility with Hotel Coral. Hotel Coral makes the satisfaction of its customers as its priority. It ensures that its clients get the most romantic ambience while at Digha to help them deepen the love between them and their paramour. It does so by creating the most romantic atmosphere for their guest at their choice of location within the hotel premise. It further supplements the option of customizing the menu and the choice of music to help their guest set the mood.
Sightseeing to Tajpur, Telsari and Udaipur beach:
There is nothing better than being at beautiful locations with your sweetheart. And Hotel Coral takes care of that. The multiple packages including the prospect of sightseeing to Tajpur, Telsari and Udaipur beach offered by Hotel Coral is nothing less than another opportunity of heightening the affection between both of you.
Watersport and many adventures:
Speed boat ride and kayaking along with other watersports offered under varied packages curated by Hotel Coral allows you to discover the adventurous side of you and your paramour when in Digha.
Local Tour:
Walking hand-in-hand with your beloved and exploring the local sites of Digha is sure to give you some personal time with your beloved. As you stroll around the Amrabati or Biswa Bangla park, it might enable you with the time to say some sweet nothings into the ears of your beloved. Similarly, a tour to Digha Science Center can assist you with some interesting topics to spice up the conversation with your beloved.
Underwater themed poolside restaurant:
Underwater themed poolside restaurant in Digha aka Aqua Blues is the choicest place to explore the food choices of your partner. Further, the outdoor beach themed swimming pool within the hotel premise helps you experience the pleasantness of a beach and indulge in some me-time with your sweetheart. And you can experience all of it without having to worry about being disturbed by the crowd.
Free access to photo-shoot:
The best part about Hotel Coral is that it gives free access to photo-shoot to all the couples visiting this beautiful island to commemorate the lovely relationship between them for ages to come. The pre-wedding package Digha offered by Hotel Coral is a part of the same.
Thus, are a few of the efforts made by Hotel Coral to help you have the best time in Digha with your beloved. With multiple other attractive facilities explicitly created for couples visiting Digha is one of the many efforts of Hotel Coral to help you create some romantic memories with your paramour for life.
Are you planning a romantic getaway with your paramour? Try out Hotel Coral. You might land to the most effective package that will enable you to create some lovely memories with your beloved for life.