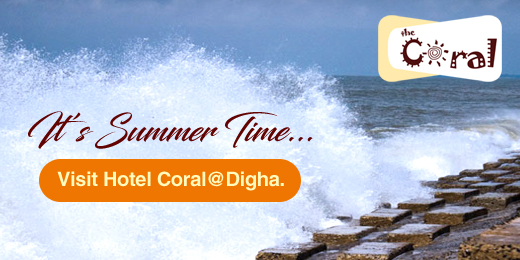 Sizzling Summer – Let's Plan a Holiday in Digha
West Bengal is blessed with enormous natural beauty. Be it mountain or beaches, there is nothing this state does not have. When thinking of a short weekend trip in the summer, we are bound to consider the beautiful Digha. The stony beaches complimenting the mighty Bay of Bengal are great to relieve summer heat is an ideal place to plan your Holiday in Digha!
Umm! A perfect place to send summer holiday in digha!
We at Hotel Coral welcome you to rediscover tourism in Digha, even if you have probably visited the place already. There is more to scenic beauty and sweet breeze when you stay with us. Whether you are travelling with family, friends or office buddies, we can make everyone happy under the same roof. We can change your thought about hospitality – because you are not only a guest, you are our family and we are committed to give you the warmth of intimacy wrapped in luxury and care. The glory of Digha enhances when you look through our window.
Is it near to the sea?
You can actually smell it from your room! All our rooms have sea view. Just few steps from our reception and you are just in midst of the marine ecstasy.
Great! But what else you need when planning a holiday in digha?
It would be better if you had asked what not! The best attractions are our beach-themed pools and colossal animal sculptures. Our beautiful garden of exotic flower species, 92-seater seminar hall to cater your professional meetings, fully sound proofed and Wi-Fi enabled interior, spacious rooms with all kinds of luxurious amenities, gigantic banquet hall , if you are planning for a dream wedding or any other celebration are all encapsulated with classic serenity.
It would be expensive!
Nope, not at all! It is not necessary that all good things will come with heavy price tags. We have different sizes of rooms with different price rates. Choose according to your accommodation and duration of stay. Advanced hotel booking facilities are available at our website with 100% clarity with no hidden charges or conditions. Just make sure you plan it a little early as per your convenience.
Digha is an old destination for people of Bengal and now it has a national appeal. We cordially invite you to feel this sublime beauty again and again. We promise that you will never regret the summers when we become your destination.