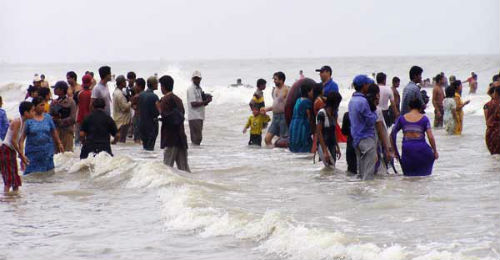 Weekend Holiday at Digha Hotel with Beach Themed Swimming Pool
Are you bogged down with excessive workload? Has it been long since you have taken a welcome break? This is the high time to chant our sure-shot rejuvenation mantra. Yes, we are talking about a weekend holiday with Digha Hotels.
With the mundane activities of everyday life often tends to get boring and monotonous. Besides gone are the days when you could happily work 9 to 5 without much stress. The fast paced life now means you have a 24×7 work schedule. Most of the days you have to for work long hours. You must be on your toes and keep a close eye on numerous emails that keep pouring in daily. You must also attend to never ending phone calls at work and even back home. With the unbearable stress levels take a heavy toll on your health. It is also likely that you hardly get any time to spend with family.
It is a high time for you to consider a quick break. With Digha at such close proximity it may be the best option you have. Besides this is undoubtedly one of the most pocket friendly Weekend Holiday Destination in West Bengal. The concept of Digha Holidays have been redefined with Luxury Hotels like Hotel Coral Digha. More so at a time when the attractive promotional inaugural offers are still being offered. Moreover you can also get an access to the state of art facilities like Beach Themed Swimming Pool, kids play zone and multi-cuisine restaurant.
With a short trip to Digha it could provide you with the perfect relaxation which you may have been longing for some time. With more relaxed mind you would find yourself much rejuvenated. Following the trip your efficiency levels would improve. You would be absolutely ready both physically and mentally to take up any challenging assignments on your return.
During the course of your busy life you may hardly find any time to spend with your loved ones. A quick weekend holiday trip to Digha could give you the perfect opportunity to spend with your loved ones. You could do so just by strolling with them along the beautiful vast stretches of the numerous Digha Beaches.
With some awesome delicacies of fish and seafood, Digha is a paradise for foodies. Dining at Aqua Blues Restaurant would undoubtedly assure one of the most pleasurable experience in your holiday. This restaurant has unique ambience with an underwater theme. The best chefs in business are here to serve your palate with the finest food. If your regular work load leads you to miss out on pleasures of delicious food, Aqua Blues would be your ultimate destination. So with the monsoon rains still on, you must not miss out on this great opportunity to rejuvenate yourself. Book your rooms at Hotel Coral Digha the best Digha Hotel.